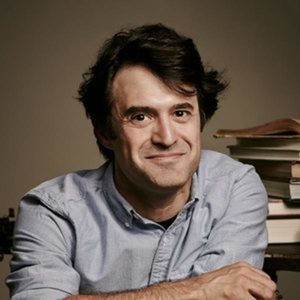 Mark Oppenheimer
Special guest
Mark Oppenheimer wrote the "Beliefs" column for The New York Times from 2010 until the summer of 2016, and he is now a contributing opinion writer for The Los Angeles Times. But he is most proud to be one of the only writers ever to contribute to both The Christian Century magazine and Playboy. Or maybe he is most proud of his very brief improv-comedy stint with the legendary Upright Citizens Brigade. On his weekly podcast Unorthodox, produced by Tablet magazine, he delivers the News of the Jews to the world, and interviews guests (Jewish and non-) from Roxane Gay to Simon Doonan, from Transparent's Kathryn Hahn to Dan Savage. His magazine journalism and reviews appear in The Times Magazine, Harper's, The Atlantic, The Nation, The Believer, and elsewhere. He holds a Ph.D. in religion from Yale and has taught at Yale, Stanford, Wesleyan, Boston College, and NYU.
Mark is the author of two cutting-edge studies of religion and popular culture. The first, Knocking on Heaven's Door, describes how the tumult of the 1960s affected Protestants, Catholics and Jews in America. The second, Thirteen and a Day, tells the story of Mark's cross-country trip in search of unique bar and bat mitzvahs, from the Ozark Mountains to rural Louisiana to Alaska.
Mark speaks widely on faith, community, media, and politics, and he frequently appears on TV and hosts on the radio. He wrote and hosted this documentary about David Blankenhorn, the famous same-sex-marriage opponent who changed his mind. He has given NPR commentaries about Quaker summer camp and the demise of the hippie, and he was featured in an NPR segment about Portnoy's Complaint. You can also see footage of his appearances on TV: here he is on the CBS Early Show talking about Tom Cruise and Scientology, and here he is on CBS Sunday Morning. He has appeared several times on Morning Joe, as well. Here is an archive of his appearances at the Aspen Ideas Festival.
Mark has won numerous awards for his writing and scholarship, including the Hiett Prize, the Koret Young Writer on Jewish Themes Award, the Connecticut Book Award, and the John Addison Porter Prize from Yale University. He also co-hosts the wildly popular podcast Unorthodox. He lives in New Haven, Connecticut, with his wife, four daughters, two dogs, and cat.
Mark Oppenheimer has been a guest on 1 episode.
February 21st, 2018 | 58 mins 18 secs

When we began this podcast we never imagined we'd get to 200 episodes. It's been a wild ride. We were joined on our 200th episode by Mark Oppenheimer, Editor at Large at Tablet Magazine and co-host of the wildly popular Unorthodox podcast. We talk faith, politics, public life and even epigenetics. Thanks to all our listeners. Here's to 200 more!